RED LANTERN 2018 EVENT:
CLASH IN A FIERCE RIVALY BETWEEN THE INFERNAL DRAGONS & THE LUCKY ACES
---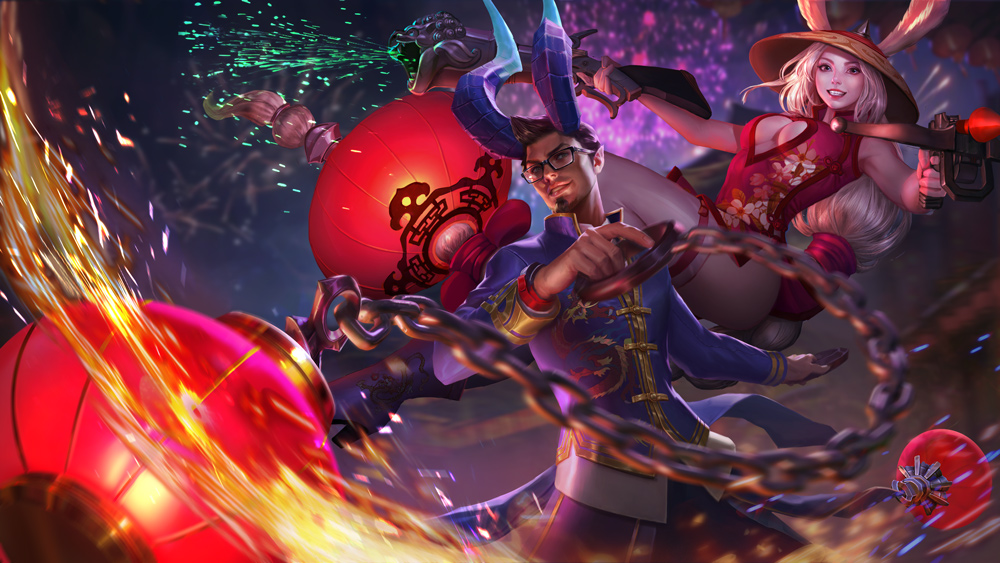 ---
Participate in Vainglory's Red Lantern 2018 Event and lead your team to victory!
Starting February 15 at 4PM PST, visit the MARKET and tap on the EVENT tab. There, you'll have the opportunity to enlist in the Red Lantern event by tapping and holding down the FREE button. Completing this process will reward you with a chest containing 100 Glory and randomly place you in one of two groups: The Infernal Dragons, led by the fiery take-no-prisoners assassin, 'Red Lantern' Reza, or the Lucky Aces, whose raid boss is the gun-slinging badass, 'Red Lantern' Gwen.
Once you've been assigned a team, you'll have an opportunity to earn Lunar Fame. Earn as much Lunar Fame as possible before the event ends on February 22 at 4PM PST to claim victory for your team and win the prize.
Want to see if your team is winning? Visit the EVENT tab in the MARKET everyday at 4PM PST to see how much Lunar Fame has been earned by both sides.
---
THE NAME OF THE GAME IS FAME
Now that your hand has been dealt, it's time to go all in and earn as much Lunar Fame as possible. The best way to do this? Play Vainglory 5V5! Each time you win a game on Sovereign's Rise you'll earn 10 Lunar Fame for your team. Winning a 5V5 match using these qualifying skins will earn your team 5 bonus Lunar Fame:
'Red Lantern' Flicker
'Red Lantern' Koshka
'All Sparkler' Skaarf 
'Gift-wrapped' Fortress
'Lapdog' Grumpjaw
Earn 10 BONUS Lunar Fame by winning a 5V5 match while using either team captains' skin:
'Red Lantern' Reza
'Red Lantern' Gwen
Keep an eye on the MARKET for a special Red Lantern Blueprint Chest —purchasable for 250 ICE — which will grant your team 10 Lunar Fame for each open. Red Lantern Blueprint Chest purchases will start to contribute to your team's overall as soon as Update 3.0 goes live.
Finally, earn a whopping 50 Lunar Fame for winning three 5V5 matches in a single day.
---
GOOD FORTUNE FOR ALL
To make sure Vainglory's Red Lantern event kicks off with a bang, we're giving out rewards to everyone! Red Lantern event winners will receive one random unowned skin. The runner-ups will receive a random blueprint.