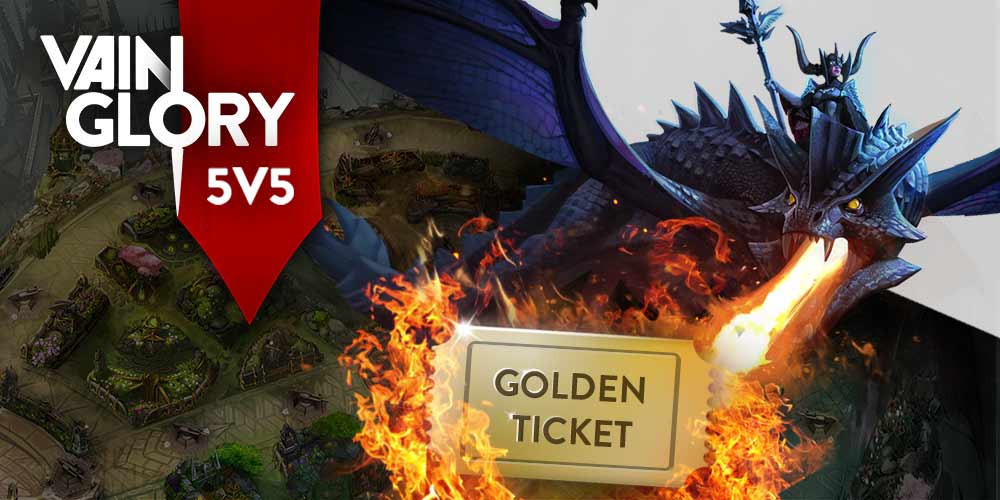 Vainglory 5V5 will be globally unveiled at the World Championship on Dec. 17, with superior gameplay and strategic depth, the most accurate and responsive controls and the best graphics and highest frame rates on mobile. It's the completion of a dream that began back in 2014 — long before mobile devices existed that could handle the scope and scale of our ultimate vision.
But those devices and technology are now here, and the unveiling moment is fast approaching. Afterward, one clear question will ring out over and over again: "When can I play it?"
The answer depends on your luck … and your determination.
Before anyone else enters Vainglory 5V5, a fortunate few will achieve Early Access by virtue of something new: Golden Tickets.
---
WHAT IS A GOLDEN TICKET?
Golden Tickets are the only guaranteed entry system into Vainglory 5V5 Early Access. If you have a Golden Ticket, you will be among the first people ever to set foot on the new map and experience its wonders … and dragons.
---
HOW DO I GET A GOLDEN TICKET?
You can acquire a Golden Ticket in multiple ways, and you're welcome to participate in any or all options:
Pre-register for Vainglory 5V5 for a chance at Early Access. This enters you into a lottery from which Golden Ticket winners will be drawn. We will conduct multiple drawings, so you have multiple chances of being randomly selected for a Golden Ticket. There's no downside to this, so pre-register now and also get the "Founding 5V5" player badge as a result.
Every quest you complete beginning Dec. 17 could pay out a Golden Ticket. Immediately following the World Championship, when you complete a quest, there's a small chance that the chest you open will contain a Golden Ticket.
Special holiday-themed boxes (arriving Dec. 17). We wanted to include a way to honor those who support Vainglory through premium box purchases. And while the odds of getting a Golden Ticket in these boxes will be quite low, they will be loaded with amazing content that makes every pull very worthwhile, whether you luck into a Golden Ticket or not.
No matter what methods you choose, finding a Golden Ticket will be a rare, special occurrence, so if you succeed, count yourself lucky and congratulations!
---
DREAMS BECOME REALITY
We are so thrilled to bring this 5V5 dream to life, which belongs as much to Vainglory's players as our dev team. From the very beginning, we've believed that every phone was a portable next-gen console, and that every mobile player deserved games just as core, strategic and performant as players on PC. Vainglory 5V5 speaks to the heart of what Super Evil Megacorp stands for, and our 5V5 MOBA will be deeply strategic and tactical, with console-grade performance, based on deep, original fantasy storytelling.
We'll see you during the global unveiling of Vainglory 5V5 at Worlds, and afterward, happy Golden Ticket hunting! With a little luck, you'll be playing 5v5 before everyone else!
---
RELATED 5V5 VIDEOS: